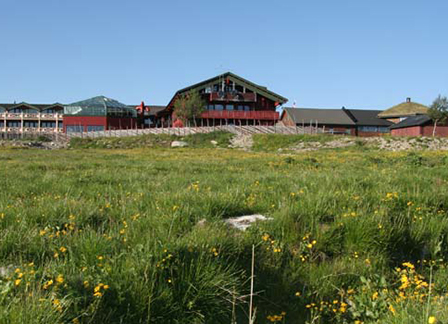 Spidsbergseter Resort Rondane
Location
Spidsbergseter Resort Rondane is surrounded by unforgettable nature with the Rondane National Park as the nearest neighbour. This is perfect for for example walks and bike rides through the destressing landscape.
In the winter season is there right outside the door cross-country trails for miles. Beside is the Spidsbergseter Ski Centre which is perfect for a day with alpine skiing.

Facilities
The Hotel is focusing on relaxing and time to enjoy the silence. The Hotel has several fine dining halls, among others "The Northern Lights" which includes an experience worthy glass house with panorama view over the mountains. There is also small and big salons, bistro, bar, activity room, bathing facilities and a gifts shop. The bathing facilities and the activity room imply among others a pool, sauna, Jacuzzi, steam bath and a climbing wall. The Spidsbergseter has the "Only Aquavitfjøs in the world", where it is possible to choose between 75 types of "The Water Of Life". In the bar "Låven" is there sometimes live music which command to dance.

Rooms
The Hotel has 60 rooms, 16 fjellsuites and 9 comfortable cabins. All rooms have WC, bath and TV.
The Fjellsuites is 35 m2 have two bedrooms with baths, shared room and a balcony with a view to the slopes and the landscape. Pension can be added.
The cabins are 50 m2 with two bedrooms, bath and WC, living room with fireplace, TV and fully equipped kitchen.

Contact our travel Consultant per. mail post@nhu.dk or tlf.: (+45) 96 17 01 11.