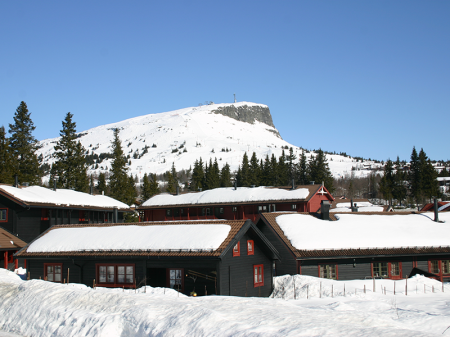 The area of Skeikampen is a family destination which lies idyllically close to the top of the mountain, about 35 minutes by car from Lillehammer and 3 hours from Oslo. The tourist attraction lies at 800 meters height at the bottom of the mountainside Skeikampen. Skeikampen offers 17 alpine slopes - 3 green, 5 blue, 6 reed and 3 black, of which the longest slope is 2,5 km long.
The Peer Gynt road, which is open in summer, connects Skeikampen with the tourist attractions in Peer Gynts Realm. In winter Skeikampen is an attractive ski resort, in summer the area offers activities like cycling, tennis, golf and walking trails which lead many tourists to the mountainside. Skeikampen has great traditions as a tourist resort.
Since 1876, tourists have come to the mountainside to recharge and enjoy the fresh air. Skeikampen has a steady and dry climate and is known for its snow guaranteed wintertime. The winter season starts in the beginning of November and lasts till April. The tourist attractions are surrounded by an interesting and diverse landscape, and lies at the border between the high field and the woods in Gudbrandsdalen.
Both the alpine slopes and the cross country skiing run through diverse and easy terrain which suit the most. Today the alpine center has become a very modern ski resort, with good conditions for beginners and children, in addition to a modern terrain park.